WE KNOW YOU MAY HAVE QUESTIONS PRIOR TO BOOKING A BRIDAL APPOINTMENT AT Sew stylish wedding works. HERE ARE SOME QUESTIONS THAT ARE FREQUENTLY ASKED…
When should I start shopping for my wedding dress? – We recommend shopping for your wedding dress 9 months to 1 year prior to your wedding day. This will allow you to decide on your wedding gown and have enough time to order your dress and allow for any alterations that are needed.
When should I order my wedding dress? – We recommend ordering your wedding dress 6-9 months prior to your wedding day. If you find yourself short on time we can rush orders or you can also purchase a gown from our sample sale collection.
How long does it take to order a dress? – wedding gowns do take aproximately 20+ weeks to be ordered in. These gowns are made to order meaning when we order you dress it is made just for you! It is not sitting in some warehouse waiting to be sold. Bridesmaid dresses are also made to order but generally take about 12 weeks to come in. And some of our mothers companies do stock dresses and we can get the dress in a few short weeks.
What sizes are your sample dresses? – Sew Stylish's sample gowns range from size 6 to 26. We have some tips, tricks and clips to help give you the best idea of how the gowns will fit.
Do I need to wear a bustier or any special undergarments? – You will find that many of our gowns will have built in bustier that will provide the structure you seek. This means you will save time and money from having to purchase them. We recommend you bring a nude strapless bra and nude underwear as well as heels that are approximate height that you would be wearing on your wedding day.
What is the price range of your dresses? – Our collection ranges in price from $950 to $3000.  The majority of our dresses fall between $1400-$1700. We do also have Many dresses priced under $600 in our clearance section.
How many people may I bring with me? – Our bridal boutique comfortably accommodates 4-5 guests in your party. And while you may want to bring along many of your closest friends and family members, it can easily make dress shopping more difficult. It's hard to listen to your own voice when you are hearing the opinions of so many others. Bringing along a few of your loved ones keeps the experience special and focused on you.
Do I need an appointment? – No, an appointment is not required; however we do recommend you book an appointment to get the most intimate experience. (due to the new regulations with COVID we are currently running by appointment only)
Do you have parking? – There is public street parking in front of the store as well as a public lot around the corner, directly behind the downtown strip.
What is required for payment? – When you have said "Yes to the Dress", we require 50% of the price to order the gown. The remaining balance is paid once your gown arrives and you have come for your fitting.
What happens after I order my gown? – We will call or email you once your gown arrives and set up an appointment with you to come and try it on, and to begin your fittings. As a complimentary service, you may store your gown here until your fitting time and we will have it steamed and prepared for your wedding date.
Will my dress fit perfectly when it comes in? – This is a misconception. Once you've made the decision to purchase your gown, we take your measurements – bust, waist and hip are standard, and are compared to the manufacturer's specific size chart and we order the closest size allowing for your measurement. When the gown arrives, we tailor it to fit you.

The Sew Stylish Shopping Guide
Learn some wedding dress shopping lingo: Know your "Gown Vocabulary" before you go to your appointment so that you are sure you and the consultant are on the same page.
Think carefully about who your bring Bring: When was the last time a group of women were all in the same room and all agreed with each other? Never! You still want to make this a fun experience so bring a couple people you can trust to help make your decision a little bit easier!
Take Advantage of Bridal Consultants: Bridal consultants know what they're doing. They know what they have in stock, they've seen every size and shape bride you can imagine, and they know how to flatter any body type.
And be truthful, your consultant can't help you properly if you aren't honest with them about how you are really feeling
Let your consultant be aware of Your Budget, Always: This is a no-brainer. Don't try on dresses you can't afford. The simple law of attraction says you're going to fall in love with the dress you can't have and then you're only setting yourself up for failure. Don't do it.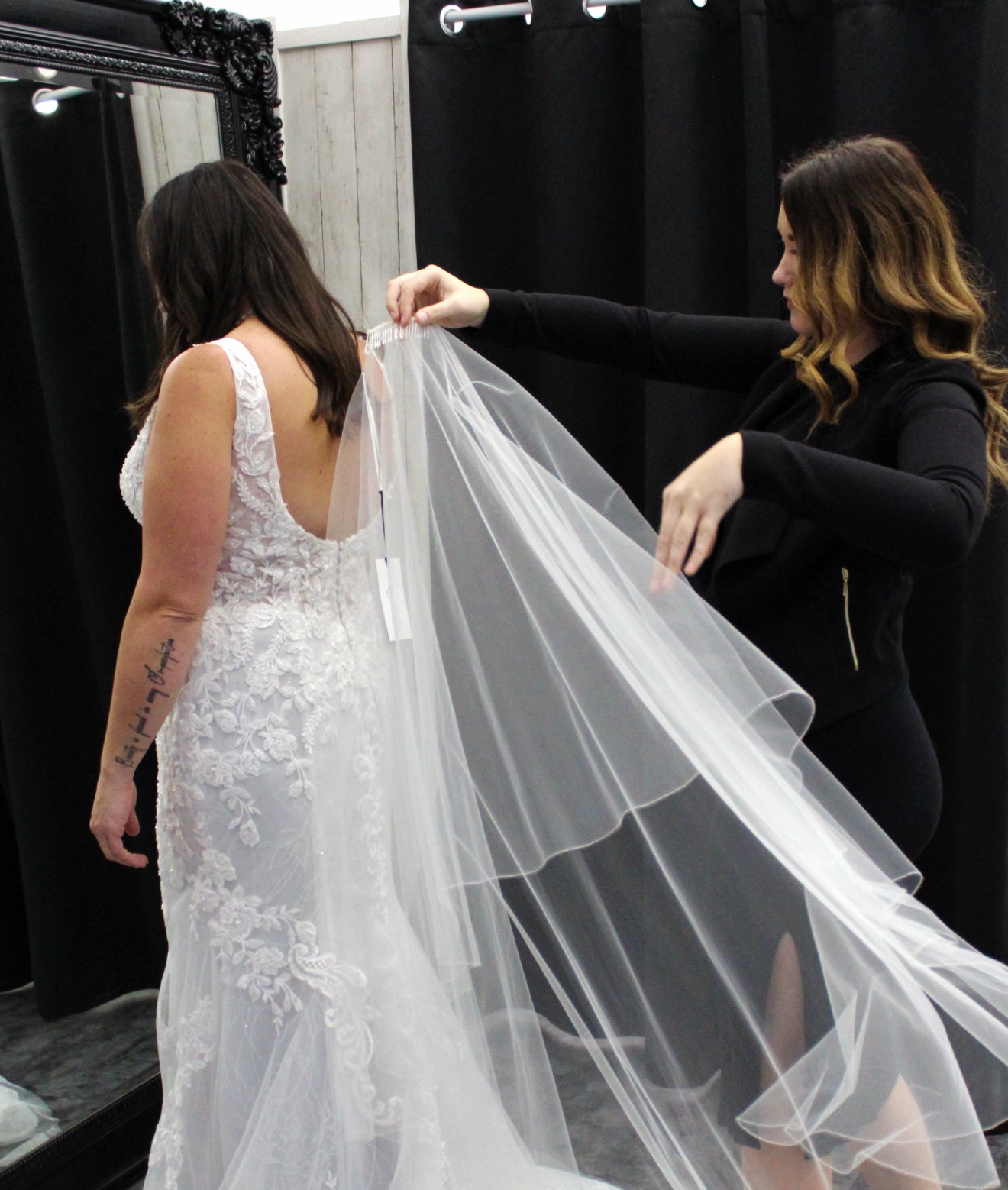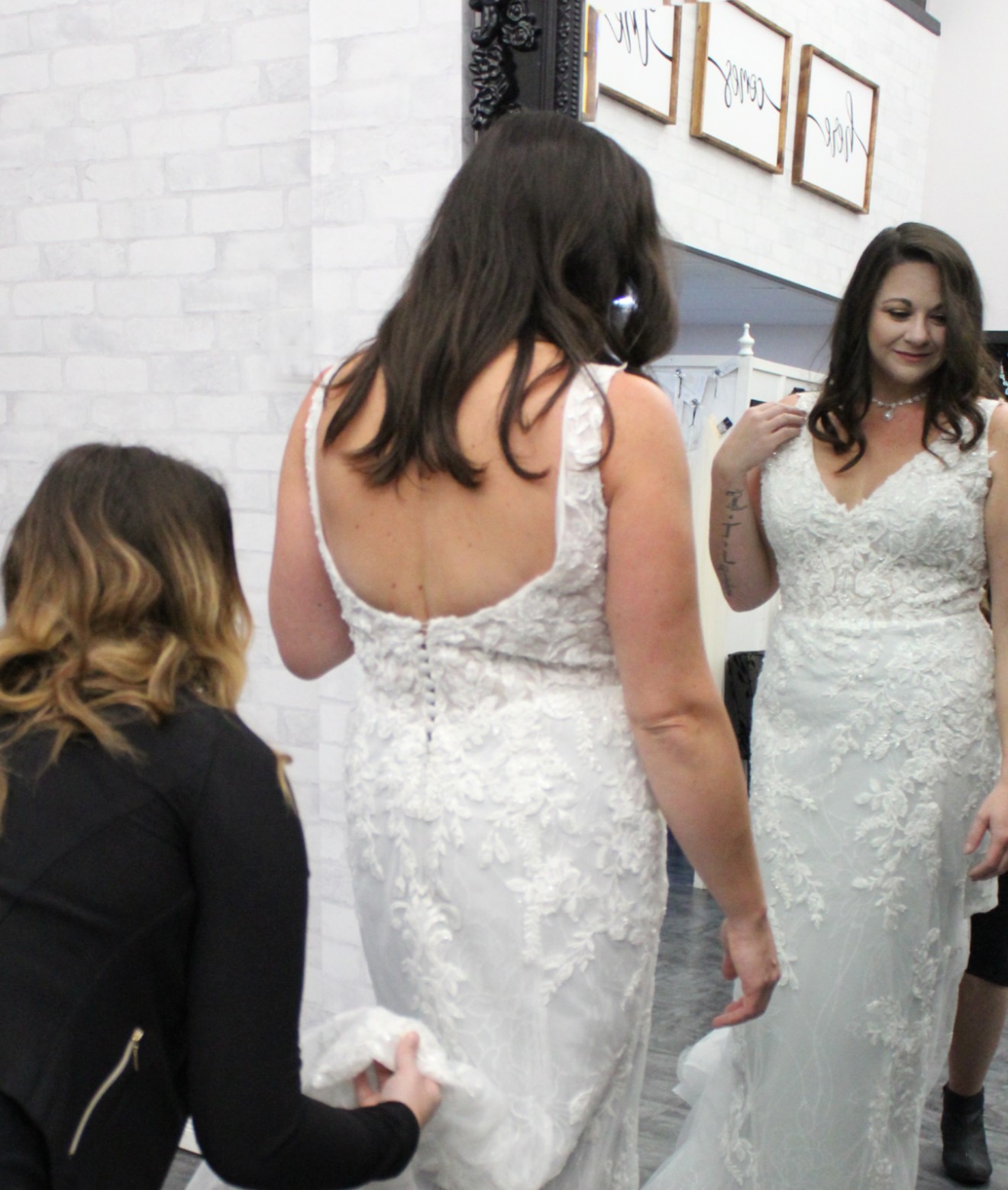 Don't Limit Yourself to One Style: A different silhouette or material may flatter you better so don't box yourself with one style and potentially miss your dream dress. Try on styles you're unsure about, you never know.
Try to eat something: coming to your appointment after a light meal will make your shopping trip much more enjoyable.
Take Pictures: Take pictures of yourself in the wedding dresses to make sure they look the way you want. Don't just take stand up photos either; you're going to have to pose in the dress so move around.
Move around A Lot: You're not going to just stand on a podium and look at yourself in the mirror at your wedding. Between walking down the aisle, some photos, sitting down to eat and lots of dancing, you're going to be moving around a lot.
And Have Fun: This is a once in a lifetime experience. Don't get stressed out about finding a dress. Enjoy yourself and have some fun. when else are you going to be able to strut around in such amazing dresses!